Sinner by Sierra Simone
Publication Date: March 15th
Genre: Contemporary Romance
Blurb
I'm not a good man, and I've never pretended to be. I don't believe in goodness or God or any happy ending that isn't paid for in advance.
What do I believe in? Money. Sex. Macallan 18.
They have words for men like me—playboy. Womanizer. Skirt chaser.
My brother used to be a priest, and he only has one word for me.
Sinner.
***Sinner is a standalone companion to Priest about Father Bell's brother Sean. You do not have to read Priest or Midnight Mass to read Sinner.***
Purchase your copy today!
Teasers
Excerpt
"Zenny," I mumble against her lips, some valiant part of me recognizing that this is far, far beyond the kiss she asked for, and also recognizing that I'm going to come all over the inside of my Hugo Boss suit pants if she keeps it up. Even through the clothes, I can feel her heat, her shameless rolls hinting at where she goes soft and wet between her legs.
Fuck, I want to see it. I want to see her pussy. It's suddenly all I can think about, all I can want or crave, just one glimpse, just a peek.
"I want to see your cunt," I say hoarsely, lifting my head.
"My…cunt?" She says the word like she's never said it out loud before.
"Yeah." My voice is so ragged right now, so desperate, and fuck, I've never felt this frantic before. Like I'll actually combust if I don't get this one thing, this one small sight of her secret place.
She lets out a shaky breath, her hand dropping from my lapel to her skirt, which she slowly rucks up to her waist as I devour her lips once more, as I bury my face in her neck and kiss every sliver of skin exposed above her collar. I bite at her ear, at her jaw, my hand finding hers as it pulls her skirt up, so that I'm helping her do it, that we're doing it together, this forbidden act, this forbidden revelation.
Her forbidden body.
That word, forbidden, spikes through my mind, bringing with it equal spikes of lust and fear. Because yes, it's fucking hot that I shouldn't be kissing her, I shouldn't be begging to see her most secret place, my hand shouldn't be covering hers as it slides up her thigh — but it's also bad. Bad even for Sean Bell.
Bad, bad, bad.
THE PRIEST SERIES
---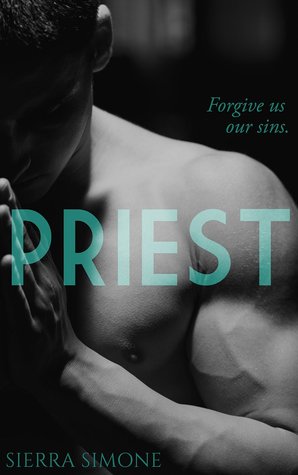 Priest – Book #1
Synopsis:
There are many rules a priest can't break.
A priest cannot marry. A priest cannot abandon his flock. A priest cannot forsake his God.
I've always been good at following rules.
Until she came.
My name is Tyler Anselm Bell. I'm twenty-nine years old. Six months ago, I broke my vow of celibacy on the altar of my own church, and God help me, I would do it again.
I am a priest and this is my confession.
Priest is a standalone, full-length novel with an HEA.  For mature audiences only.
Get your copy of Priest today!
---
 Midnight Mass – Book #2
Synopsis:
We are told that God will punish the wicked. That sinful men will reap what they sow. We are told to scourge our souls with prayer and pain to become clean once again.
Well, here I am. Wicked and sinful. Desperate to become clean…even though it feels so good to be dirty.
But even I never expected what came next.
Even I never expected my punishment to come so soon.
Midnight Mass is a novella and a sequel to Priest. For mature audiences only.
Get your copy of Midnight Mass today!

About Sierra Simone
Connect with Sierra Simone